Hundreds of thousands of events occur every year in the US, which means there are hundreds of thousands of opportunities for sponsorships. Over the past few years, hundreds of brands have shifted more and more focus (and spend) to experiential marketing. So then why is it still so difficult to get brands to sponsor your events? Two reasons:
The Inaccessibility
As an event organizer, most of us have spent countless hours searching for the right person to talk to at big name brands like KIND Snacks, Lyft, Redbull, etc. You often just get pinged around from person to person or don't get any response at all, which is unbelievably frustrating. Up until now, there hasn't been an easy way to connect with the brands you want to sponsor your events.
The Time-Suck
Finding sponsors takes time, between finding the right contact, setting up meetings, pitching your events, negotiating prices and contracts and coordinating logistics, there's barely any time to plan the actual event. But finding sponsors for your events doesn't have to take so much time.
The Solution
Recess has created a platform, similar to how Airbnb works, to connect brands with event organizers. Here are a few ways Recess is providing solutions for the two biggest issues event organizers face:
1. Increased Brand Reach
Using Recess, you can promote your events to over 100 brands instantly.
2. No More Cold Emailing
Brands will come to you, so you don't have to spend any more time searching LinkedIn and sending cold emails.
3. Streamlined Negotiating and Contracting
Brands will send you offers with details about their activations and you simply have to review and either accept or deny their offer. No more back and forth.
4. We'll Do the Dirty Work
Forget about coordinating the logistics yourself, that's what we're here for! We will take care of all of your logistical needs including communications with the brand and getting additional paperwork filled out.
Here's a quick snapshot of how your events will be displayed to brands: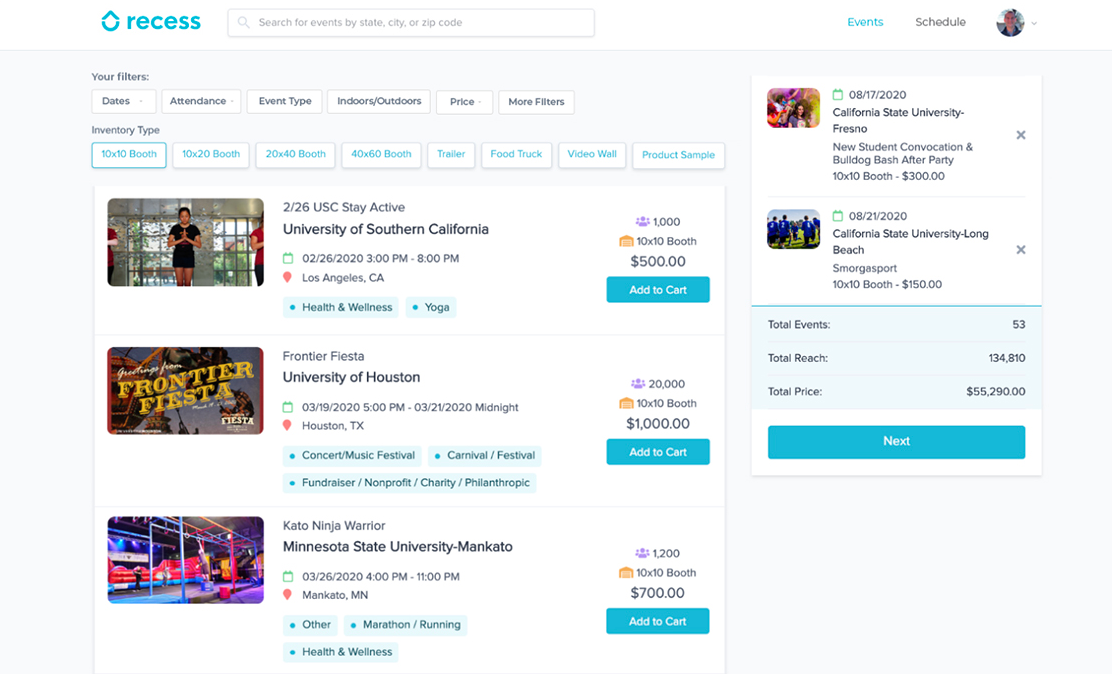 Recess is paving the way for the future of event sponsorships. Our goal is to help bring more sponsorship opportunities to your door so you can increase your sponsorship revenue and spend more time focusing on the other aspects of your events.