Overview
When the first digital ad appeared in 1994, representatives for the publisher and advertiser negotiated the deal. They likely sat behind their computers on either end of a long email chain, hashing out terms, haggling over price, drawing up the insertion order, and later, manually tracking the performance.
As the internet exploded and digital advertising grew into what's now a $330 billion industry, demand surfaced for a more efficient, automated process. Ad servers emerged, allowing brands and publishers to deliver, manage and track campaigns automatically. These were bundled into networks, letting ads appear on multiple sites at once with the push of a button. In the current digital advertising age, where these marketplaces facilitate thousands of such transactions a day, that first deal seems downright antiquated.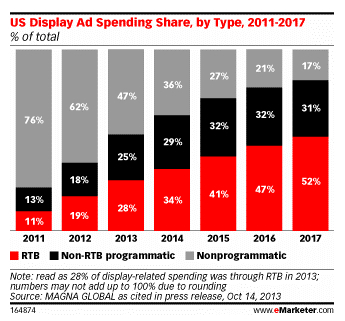 However, that's precisely where event marketing stands. Brands looking to grow their audiences through event sponsorships spend hours researching opportunities and manually executing deals.
Plenty of channels have been here. Direct-to-consumer emails evolved into email lists, then networks of lists. TV ad buying, once a time-consuming manual process, is starting to transition to programmatic. Influencer marketing gave way to platforms like Niche & Social Native, and billboard purchasing moved onto marketplaces like AdQuick. In each case, rising demand and advances in technology drove shifts toward data-driven online exchanges.
Event marketing is poised to undergo that revolutionary shift. As digital advertising becomes costlier and oversaturated, marketers must develop new, high-quality performance channels. Experiential marketing is poised to become the next great channel, driving acquisition, conversion, and sales goals. Thanks to modern technology, what was once an expensive, hard-to-track investment will become a cost-effective, streamlined process with measurable results.
Event sponsorships are evolving
In today's attention economy, advertisers risk drowning in a deluge of content. Marketing experts estimate that Americans are exposed to between 4,000 and 10,000 ads every day. Live event sponsorships offer marketers the opportunity to authentically and memorably engage consumers by leveraging their passions and fostering face-to-face connections. Marketers know this: 80% of them consider live events critical to their brand's success, while 31% call event sponsorships the single most effective marketing channel.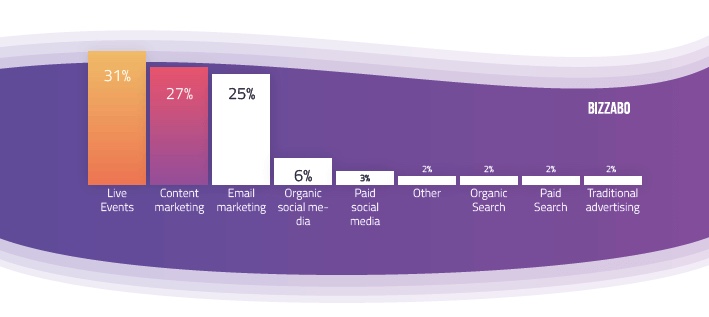 As the status of event sponsorships changes, the types of events that yield high returns are evolving too. Just as influencer marketing filtered from mega-celebrities like Kim Kardashian-West down to personalities with more modest followings, event marketing is beginning to see an influx of localized, community-focused events that generate higher engagement rates and ROI than marquee events like Coachella or SXSW. With the emergence of technology that identified relevant micro-influencers, brands could boost engagement by targeting niche audiences. The same is happening with event marketing. Local events offer more significant opportunities to engage the right audiences, with limited interference from other brands.
Although event sponsorships play an increasing role in the success of marketing campaigns, challenges remain. In the realms of process, measurement, and transparency, live event marketing often seems to operate in a pre-digital age. But it doesn't need to stay that way. Event marketing is on the verge of a digital revolution.
Challenges affecting event sponsorships
1. A time-consuming manual process
Like the pre-programmatic advertising age, arranging event sponsorships involves a series of tedious, manual tasks. Countless hours are spent on back-and-forth emails, negotiations, insertion orders, and manual tracking. Additionally, the prohibitive amount of time it would take to research every opportunity means brands are operating with incomplete information. Absent a single destination for discovering, booking and executing sponsorships; brands are forced to waste considerable time manually executing each deal.
2. Lack of Inventory standardization
Event inventory is dispersed and inconsistent. Features, benefits and demographic information vary tremendously from one event to the next. The lack of standardization makes it nearly impossible to compare sponsorship opportunities and measure outcomes accurately.
3. Insufficient audience, performance, and measurement data
Tools exist to measure every digital marketing cent that a brand spends, but when it comes to assessing the audience, value and impact of live events, most businesses still operate in a pre-digital age. Without a clear picture of who's present at events and who engaged with particular brand activation, marketers remain in the dark about the impact on customer acquisition and subsequent sales. Although a majority of marketers believe event marketing drives more business value than other channels, only a minority (23%) say they can calculate ROI for events.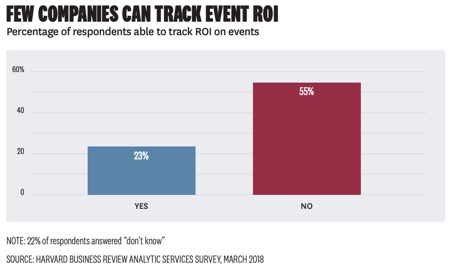 4. Unfamiliarity with new event organizers
Working with an unfamiliar event organizer carries risk. Without a reliable method of assessing prospective partners, brands are rightly skeptical of spending marketing dollars on new sponsorships.
A platform that helps companies sponsor and produce live activations at scale will play a vital role in a future that's becoming more dependent on real-life interactions to capture consumer attention.
Programmatic buying: the future of live event sponsorships
Programmatic technology streamlines the process of arranging event sponsorships. It's no longer necessary to hunt for opportunities or manually submit individual insertion orders. The software makes planning, buying and optimizing advertisements more data-driven and efficient.
For brand sponsorships to maximize their potential, they'll need to apply the process of programmatic buying to non-digital channels, such as event sponsorships.
How Recess can help
As former event organizers, we're uniquely positioned to understand these challenges. We wanted to build a platform that could help both advertisers and event organizers connect more efficiently, so we created a platform that delivers the power of programmatic media buying to the $62 billion live events sponsorship market.
1. One-stop location to manage all sponsorships
By accessing a one-stop portal that houses multiple events ranging in size and reach, brands can quickly and easily discover and choose the market that fits their needs. From blue chip brands experiencing slow or stalled growth to challenges that need cost-effective marketing programs, a range of businesses can benefit.
2. Inventory standardization
Fair and accurate comparisons between sponsorship opportunities require inventory standardization. Evaluating event sponsorships through consistent criteria such as placement, size, audience details, and prices will allow brands to make smarter choices based on their budget and business goals.
3. Robust audience data
To build relationships and effectively communicate with consumers, audience insight is crucial. Data capture across the event ecosystem provides robust information, ensuring that sponsorships are hyper-relevant to audiences and helping transform prospects into advocates.
4. Transparent rating system
Transparency is a growing trend across industries. Testimonials from other brands can alleviate skittishness about working with unfamiliar organizers. A rating system helps keep the experience honest while matching brands with sponsors that are a good fit.
Conclusion
A programmatic approach to live event marketing can alleviate many of the challenges that marketers face when navigating event sponsorships. It will achieve lower costs and better performance through a more streamlined process. By spearheading this approach, Recess is helping today's biggest brands secure scalable, broad events.
Event partnerships facilitate authentic, emotional bonds with customers that last long-term and build trust. When coupled with relevant on-site activation that stimulates trial and detailed data capture, this channel will generate immediate leads and increase sales.
Contact us for more information on how we can help you increase brand loyalty through targeted, scalable event sponsorships.