Getting Started
To begin promoting your events to our 150+ brand partners, simply create a Recess account for free. You can start creating your account using this link (Make sure you click "I'm an Event Organizer" at the beginning).
Next you'll complete your profile with your name, phone number, and company/organization.
Setting Up Your First Event
Time to get to the good stuff, inputting your event details. Once you finish creating your profile, follow each step and fill in all of the required fields such as date, time, location, attendance, and available sponsorship offerings.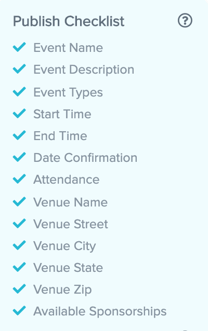 PRO TIP: If you're unsure about how to price out your available sponsorship offerings (such as a 10x10 booth, food truck space, media space, etc.) check out the suggested price. Recess has built-in an algorithm that takes into account the attendance, duration, and other factors to provide what we think your sponsorship offerings are worth.

Enhance Your Event Listing
The last step in getting your event published is answering the enhancement questions. Now that you have filled in all of the essential details, make your event stand out by:

- Uploading photos of your event.
- Indicating if on-site sales are allowed.
- Detailing the brand's options for lead generation.
- Indicating if food and/or drinks can be distributed at your event.






That's it! Simple, quick and easy. Now that you've got the basics down, check out some of our tips for optimizing your listing to increase your chances of receiving sponsorship offers.