The easiest way to maximize your sponsorships each year is to retain your sponsors and turn them into repeat sponsors. The best way to retain your sponsors is to make sure that they have an amazing experience. Sponsors attend hundreds of events each year and it is important to make your event stand out.
After executing hundreds of sponsorships on college campuses we have put together a guide with some helpful tips to help you keep your sponsors happy. Download our Logistics Advance template that has been used for hundreds of events and improving your own processes.
Your goal should be to make the event as fun and stress-free for your sponsors as it is for the attendees. If there is one thing that you should over-deliver on is communicating all of the information so you don't have any surprises on-site.
✔️ Designate One Point-of-Contact
Make it clear what person from your team can answer any questions prior to the event. It is ideal to have one dedicated person to answer any preliminary questions and be available on-site to help with any questions or issues. Make sure this person isn't dealing with 100 other things and can over-deliver on making sure your sponsors are happy on-site and can check in regularly with each sponsor.
✔️

Respond to Questions Quickly
College students are notorious for being slow to respond to communications. One way for you to stand out and make sure your sponsor's experience is enjoyable is to respond to any questions in a timely manner.
✔️

Clearly Communicate On-Site Logistics
If sponsors have difficulty parking, unloading, and getting setup it can change their entire perception of the event and add a lot of stress even before the event gets started. Have detailed instructions on where a sponsor can unload any equipment from their vehicle before the event and how they can load out any equipment after the event. *Major bonus if you have volunteers that can help carry equipment or setup the sponsor's booth/activation space.
✔️

Provide Maps
Sponsors most likely have never been to your campus or are hiring event staff that has never been there. Provide maps that show to drive into campus outlining where to unload, where to park, where the venue is located, and if there is a designated place to check-in.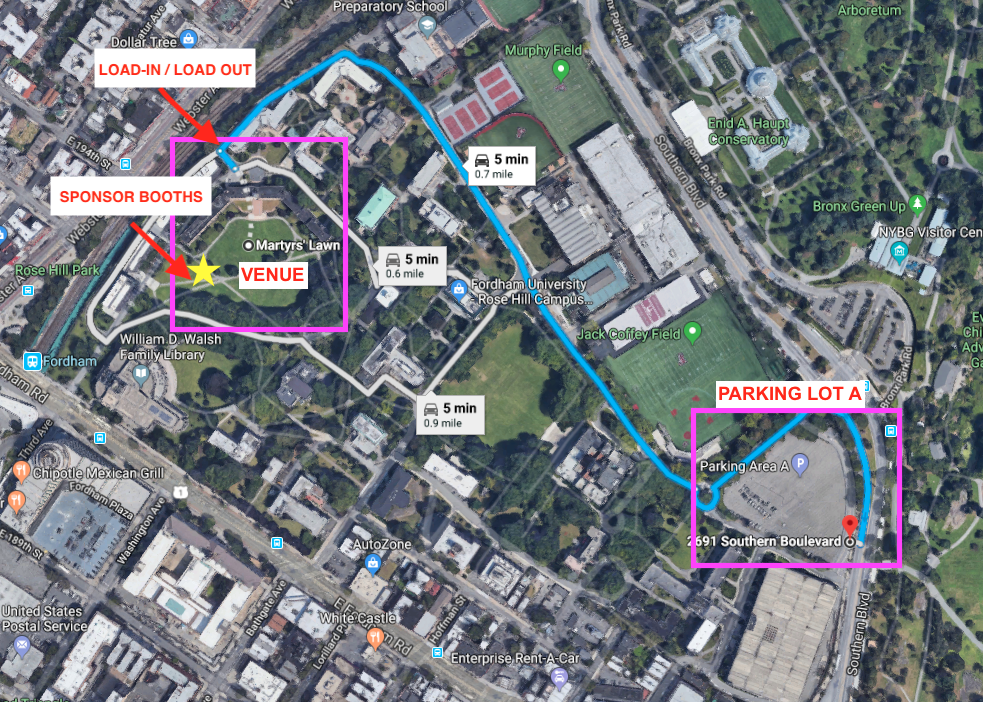 Map example, Fordham University
✔️ Provide Schedules to Sponsors in Advance
Sponsoring the event means that they want to be aligned with what is happening. Most sponsors will also need to coordinate staffing and other logistics around the event so make sure this is clear. Clearly communicates the times parking begins, setup needs to be completed, doors, activities such as artists performing, event ends, and when loadout needs to be completed by.
✔️ Confirm Equipment Prior to Event
If you have agreed to provide the sponsor with certain benefits, booth/activation spaces, or equipment make sure to confirm that in writing in advance. One thing often overlooked for nighttime events is if there is ample lighting provided at the sponsor area of if they should bring their own.
Make sure that their booth/activation space is clear and has all the equipment there that you are providing when they arrive. You don't want them not being able to set up because you weren't prepared. First impressions on your professionalism go a long way.