When listing your events on Recess, it's important to make your event stand out to brands. Here are five ways to optimize your event listings so your events appear in more searches and receive more sponsorship offers.
1. Upload Good Photos!
The first way to make your event listing stand out is with photos. Brands are scrolling through hundreds of event options and the first thing they see is the event photo. Choose a high-resolution photo that best showcases the happenings at your event and the spaces you have to offer. You want the brand to be able to picture themselves at your event.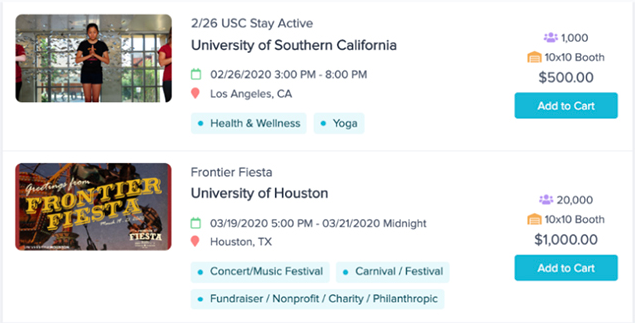 2. Create a Detailed Description
The description is the next best way to give brands insight into what your event is all about. Be sure to include details about the activities going on, what types of sponsorships you're looking for and any available demographic information, but try to keep it short and concise. Brands are often shopping for multiple events at once and do not want to spend too much time reading lengthy descriptions.
3. Find that Pricing Sweet Spot
Figuring out how to price your sponsorships can be tricky. Price it too high and brands will be discouraged, but price it too low and you end up losing money. This is why Recess has built a pricing algorithm into the platform. Our algorithm uses historical data to provide you a suggested price for what we think your sponsorship spaces are worth. See how Chad Novak from Northwestern University used our pricing algorithm to generate more sponsorship revenue:
"Recess has given us a better sense of what our sponsorships are worth compared with the market rate. We utilized their pricing algorithm last year to price our booth sponsorship and were able to make an average of $1,200 more per sponsorship sold, while attracting more booth sponsors than we ever had."
Chad Novak, Dillo Day Corporate Relations Director

4. Throw in Some Free Marketing
Adding some additional marketing opportunities for sponsors who purchase a physical space is a great way to incentivize brands. Adding their logo to the event poster or dedicating a social media post to them entices brands to sponsor your event over another that doesn't include any additional promotion. It's a great way to provide additional value with little to no investment from you.
5. Fill in the Rules, Restrictions, and Preferences
The last way to optimize your event listing is by filling in all of the rules, restrictions, and preferences for your event. Brands don't want to have to guess if they are allowed at your event or not. Oftentimes they will filter out any events that don't have these fields completed, which means you're missing out on potential sponsorship opportunities and decreasing your chances of receiving offers! On average, people who complete the entire event-form are 2x more likely to secure sponsorships.
Now go optimize your event and increase your chances of getting sponsorships! Log in here to get started!