Since 2016, Recess has connected hundreds of event organizers with brand sponsors from the world's established and emerging brands - from payment platforms like Apple Pay and Cash App, to ride sharing services like Lyft and Getaround, to food and beverage brands like RedBull and KIND Snacks.
Event organizers from colleges and universities nationwide, such as UCSD, Northwestern, Miami and more, have relied on the Recess platform to earn sponsorship revenue. By analyzing top earners on the platform, we've developed a guide of ten best practices that can be applied to your events, and can help you win more sponsors and ultimately assist in building long-term relationships with brands.
1. Publish as many events, as early as possible.
Sponsors are constantly looking to fill dates and unexpected openings on their calendars, and most aim to book their events at least 30 days with some booking up to six months in advance. To increase your chance at maximizing your sponsorship potential, list events as soon as they're approved - even if the details are still being finalized. Publishing multiple events further increases the possibility of falling on an open date in a sponsor's calendar. Most brands activate campus events more than once to stay top-of-mind for attendees.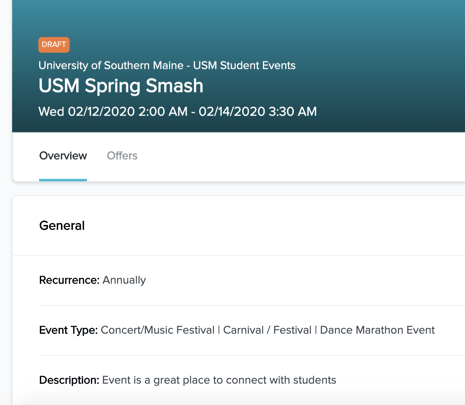 2. Price your sponsorships competitively.
Pricing is the first thing that sponsors notice when choosing an event. In the 5+ years that we've been facilitating sponsorships, we've heard that event organizers fall short on defining what their opportunities are worth. Using historical data from sponsorships booked on the Recess platform, we've included price suggestions to better inform you of what brands will pay to be at your event.
You can also price events based on your own standards and budgets, or allow brands to come for free. Northwestern University's Dillo Day saw success with pricing tips for sponsorships on and off the Recess platform.
"Recess has given us a better sense of what our sponsorships are worth compared with the market rate. We utilized their pricing algorithm last year to price our booth sponsorship and were able to make an average of $1,200 more per sponsorship sold, while attracting more booth sponsors than we ever had."
Chad Novak, Dillo Day Corporate Relations Director
3. Take time crafting your event description.
Your event listing is your one and only chance to simultaneously put your event in front of 100+ major brands on the Recess platform. More than 1,000 events are currently listed at universities nationwide, so how can you stand out among the rest? The best way to highlight your event is to include a comprehensive event description. Here are some general guidelines to keep in mind when crafting your event description:
Be professional. Avoid jargon and write to the brand(s) you are trying to attract.

Be concise. Avoid lengthy descriptions and only include the most important details.

Be visual. Include photos that capture the feel and space of your event.
4. Include high-res photos of your event space.
Including high-resolution photos of the area where your event will take place is another way to highlight your event. Allow a brand to visualize themselves at your event with a picture of the entire event or the vendor area to provide a better idea of the event experience. It also shows the energy and scale of your event, which is exciting to brands looking to acquire more customers and be part of something fresh and new.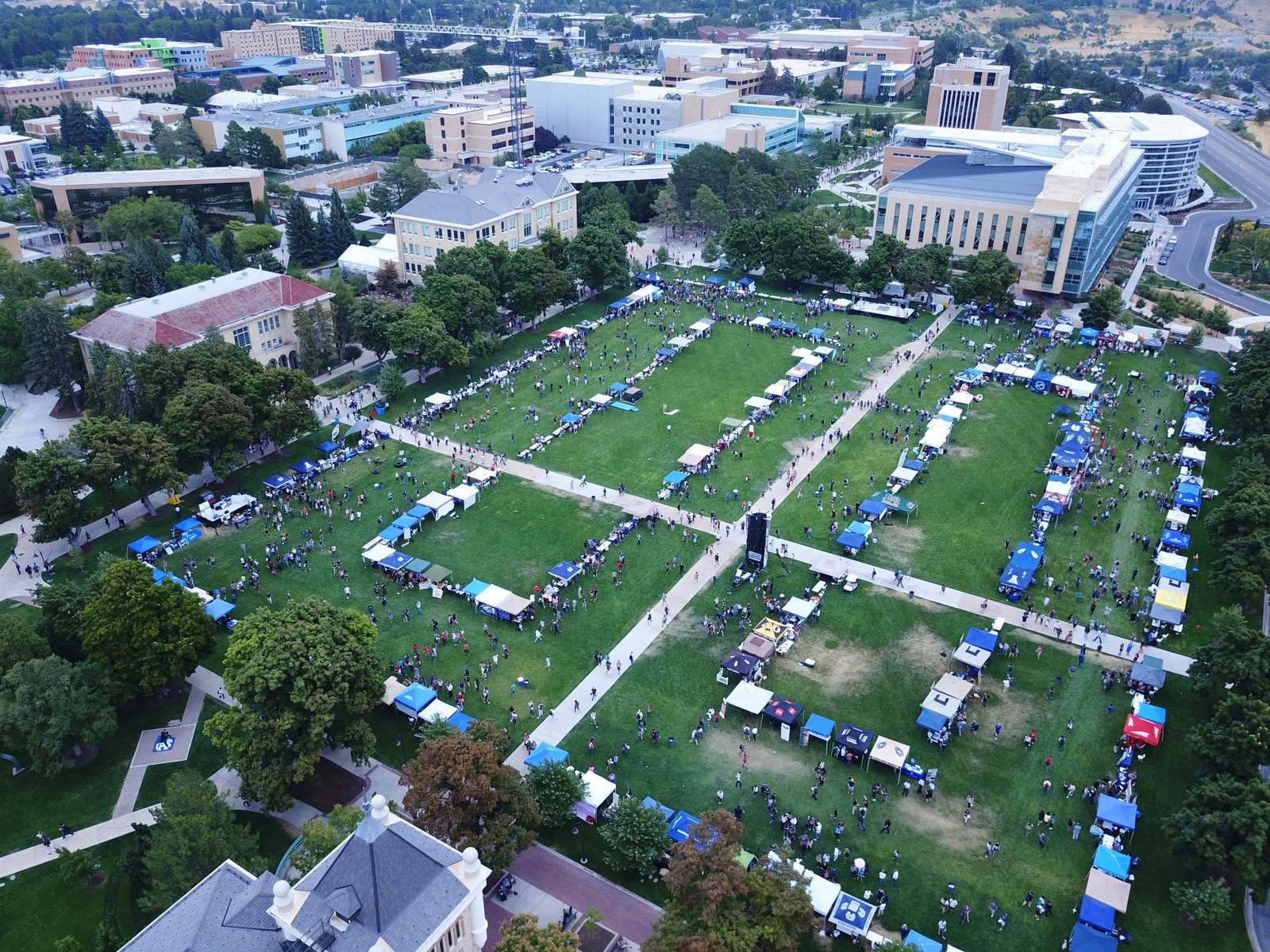 Example event photo
5. Complete the entire event form.
The Recess event form is broken down into two parts - required information and optional information. The required information section includes mandatory fields for date, time, attendance, event description, and available sponsorship space - all criteria that brands consider when determining if your event is a fit.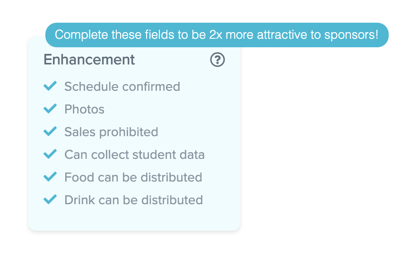 Optional information includes rules, restrictions and preferences. List important information that is helpful to sponsors, including if you have a Coke or Pepsi pouring agreement, what restrictions are in place around serving food and beverages, and other highlights. On average, completing the optional information section results in double the likelihood that your event receives a sponsorship offer.
6. Include marketing enhancements.
Enhance your listing by including elements that you'll give brands when they sponsor your event. Marketing add-ons help sponsors grasp the additional benefits they'll receive at no additional cost, which can incentivize sponsors to purchase on-site sponsorships. Include a brand's logo on an event poster, or feature them in dedicated social posts - offering free promotion is a a great way to offer sponsors added value with little to no tangible investment.
7. Show off a little - or a lot.
Brands love metrics, and being able to show any stats about your events shows them that you're ready for their business. Mention information about past attendance numbers, or even better, year-over-year event growth. At the end of the day, brand managers present their marketing plans to teams, so provide something that helps them seal the deal.
Further, brands suffer from FOMO just like the rest of us. Highlighting past sponsors lends credibility to your organization and spurs brands to enter the action. If you've worked with several big name brands over the years, then show off your long-term relationship by including them in your event description.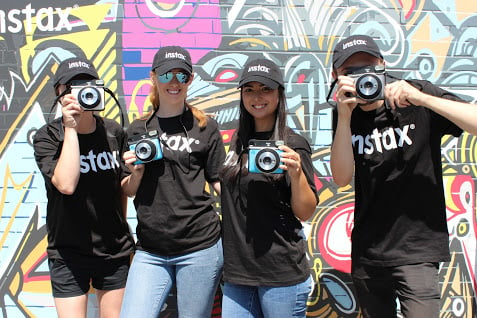 8. Be easily searchable.
Sponsors are typically looking for a specific set of requirements when booking events, so make sure to include your top features in your event title. It's important to include the type of sponsor that you are looking to attract (i.e., food and beverage) in addition to the type of event that you are hosting (i.e., music festival). These key terms enable sponsors to easily search for your event, discover your event, and indicate their interest in sponsorship.
9. Monitor the effectiveness of your listing.
When you continue to optimize your listing on Recess, you increase your chances of attracting more sponsors to your event. In the offers tab, you can monitor how many brands are interested in sponsoring your event, prices offered, and more. These are key metrics that help you evaluate how well you promote your events, and therefore, you should update your listing often for increased visibility into what works best.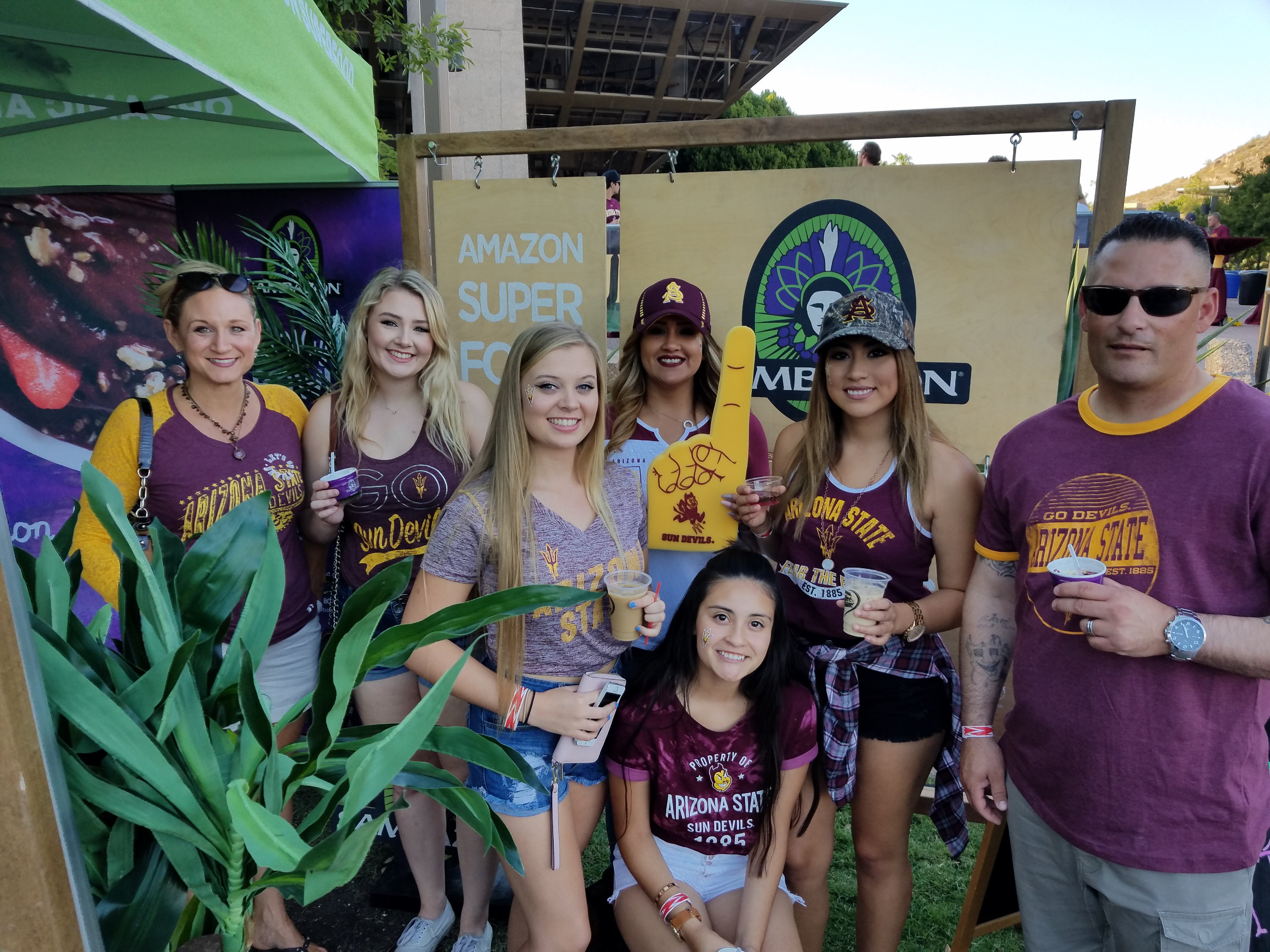 10. Under promise, overdeliver.
The tried-and-true tip to apply to any deal - whether it be in business or in life. A remarkable experience will ensure that brands return to your campus for additional event opportunities. Follow these ten best practices and you'll be on your way to winning more sponsorships and joining our top performers. Get started by publishing an event today.